Life in Yucatán is enjoyed between glasses of wine and beautiful sunsets on any of its nearby beaches.

Don't you know where to find beautiful sunsets? Yucatan has a gallery of beaches near Mérida where sunsets are the miracle of every day.
Either way, we've all wanted to stop for a moment to exist, to contemplate the time and the twilight of the day is the right time.
One of the advantages of living in Yucatán, in addition to the proximity of its beaches, is that the peninsula is a scene of twilight shows every afternoon; so it will not be a problem to find a place to admire the colors of the world.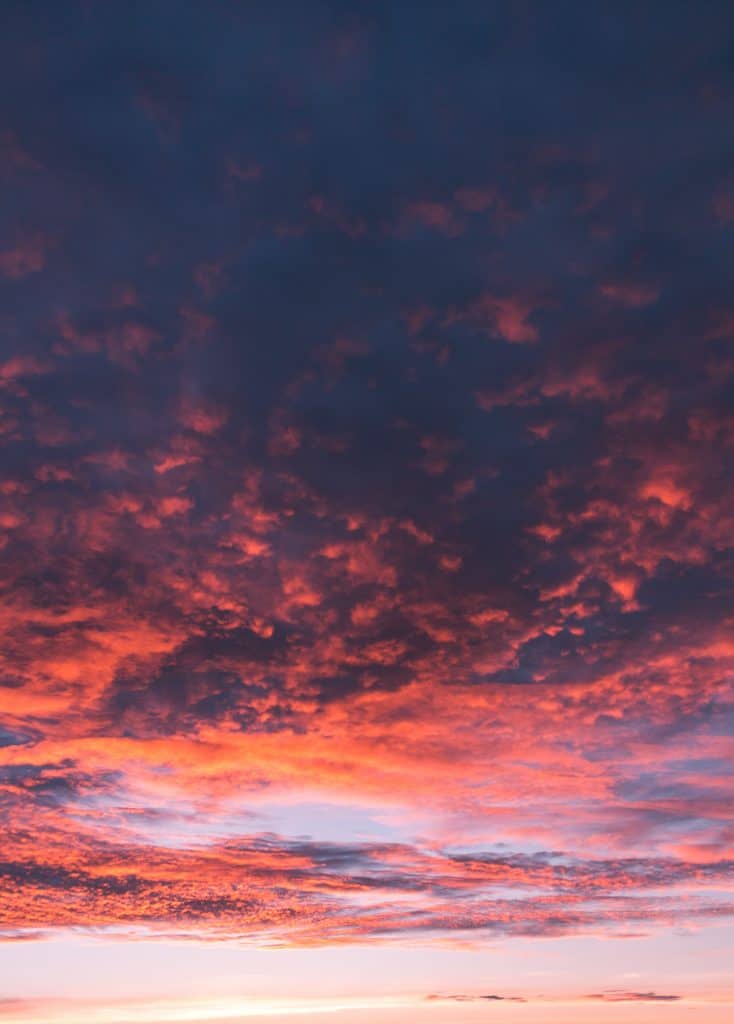 It is a fact: anyone who visits Yucatan will be able to affirm that heaven is different from any other state in the republic. This is thanks to the geographical position of the peninsula, in the open air of pollution and the flatness of its land that allows to observe horizons in the open sky and at sea level.
The clouds in Yucatán are huge, heavy or light like a brush, and they adorn the celestial vault with their shapes, Do you know the types of clouds that exist?
Luckily, Yucatán is the perfect place for you to learn to name and recognize them. In addition, you will surprise your companion with the nomenclatures in Latin. There are four large groups that, in turn, are divided into other classifications.
Cirrus or cirrus clouds They are characterized by being in the highest layers of the atmosphere. They have a rough or stringy texture.
The strata o stratus they look like strokes of white watercolor on the blue canvas. As the name implies, they are made up of different layers.
The cumulus They are large clouds, perhaps the most admired on sunny days, which are grouped together to form a pile of vertical cumulus clouds. Cumulus clouds are the type of cloud that you can frequently find in the sunsets of Mérida.
Finally, clouds nimbus or nimbus son la antesala de tormentas y precipitaciones. Un día que comienza con nimbos termina en una lluvia. Se parecen un poco a los cúmulos con la diferencia de sus tonalidades grises y de formas "rotas".
The nimbus They are also the favorite companions of beautiful sunsets on beaches near Mérida. In summer it is to be expected some light rain preceded by nimbus that announce precipitation.
Life in Yucatan means finding peace just by looking at the sky from the window. If going to the beach is not an option, within the city you will always find places to spend the afternoon at twilight.
If you are in the city center, Plaza Grande is a good place to watch a sunset. In the buildings that are located in that area there are several terraces to contemplate the sunset. You can go to the terrace of the Hotel Piedra de Agua that overlooks the cathedral.
We recommend you try their specialties on pizzas and with a cold beer.
On the list of any tourist or new resident who wants to know the skies and streets of Yucatan, Paseo Montejo must appear.
In this great avenue, the heart of the city, you can choose restaurants, hotels or cafes to admire the sunset.
Read: Paseo de Montejo. An avenue to walk on the soul of Merida.
One of them is Cúbaro. From its terrace you will observe beautiful sunsets and have a close-up of the Monument to the Fatherland. Accompany your afternoon with an exquisite glass of wine or a refreshing mojito, which is one of the house specialties.
Also on Paseo Montejo is the Hotel Rosas & Xocolate, which overlooks the iconic avenue. Ideal for those looking for a bohemian place accompanied by good music and gourmet dishes.
We recommend you read: Find in Mérida these 10 exquisite wines to pamper your palate.
Vivir cerca de la playa es disfrutar de atardeceres hermosos todos los días…

San Crisanto
This fishing village, 52 kilometers from Progreso, has one of the most beautiful beaches in the state, and is surrounded by imposing nature.
A characteristic of San Crisanto is that every night the tide drops a few meters, resulting in a unique place to see beautiful sunsets or camping and why not to spend the night under the stars.
We recommend you: Do you like camping without losing the glamor? Discover glamping and where to practice it in Yucatán.

Chelem
This beautiful fishing port is located near the city of Mérida, west of the port of Progreso. Here, you will forget about the big hotels and enjoy a picturesque town with narrow streets of white sand and a few meters from a crystalline sea.
If you want a bit of adventure, there are boat tours and boat rides through its estuary. On the way you will discover several species of birds that inhabit the mangroves. Beautiful sunsets dress the port of Chelem every day.

Celestún
A privileged place if you are going to live in Mérida, Yucatán is Celestún. Known as one of the most famous pink flamingo sanctuaries in Mexico, it is surrounded by incredible natural sites and is home to thousands of Yucatan flora and fauna.
This town is also known for its quiet and paradisiacal beaches. As if it were a painting, in Celestún the beige sand contrasts with the color of the water, which at some points reaches very dark blue tones.

Dzilam Bravo
The town of Dzilám de Bravo is located 130 kilometers from Mérida. Historic port, as the Spanish landed there.
It is a place of natural wonders and beautiful beaches that are the perfect setting to watch the sunset.
Did we convince you to visit Mérida? How about changing your lifestyle? Read: Merida, a growing city and discover a new home in Yucatán.
Aprende fotografía con este libro, "El ABC de la fotografía digital".